The hot tub industry has experienced a boom of growth over the years, and it's pushed innovation to whole new heights.
While it's certainly causing waves of advanced systems and luxurious designs at competitive prices, it also makes it challenging to know where to begin!
There are various hot tub brands on the market, each providing their own unique systems and designs to provide a truly remarkable experience.
Caldera Spas®️ is one of the most recognized brands on the market, and has left people raving about the luxurious experience they provide.
In this article, we're going to explore what makes Caldera Spas®️ stand out, provide tips for finding the right hot tub, and share five of our favorite models – each fit for a different lifestyle!
Keep reading to discover the spa of your dreams!
Why Caldera Spas®️ Are Making a Splash
Caldera Spas®️ came on the scene in 1976 and have been challenging the industry standard ever since.
Each spa has been thoughtfully designed to flawlessly align with various lifestyles and personal needs, from the shape to the size and the seating style.
With a focus on comfort and powerful hydrotherapy, many Caldera Spas®️ models have deep cradling seats to hug your body and lift any pressure off your joints as you enjoy your hydromassage.
Additionally, various Caldera Spas®️ models come equipped with a saltwater system, something that isn't commonly found among other brands.
While saltwater systems still produce chlorine, they provide a silky smooth soaking experience and leave your skin feeling soft and hydrated after each session.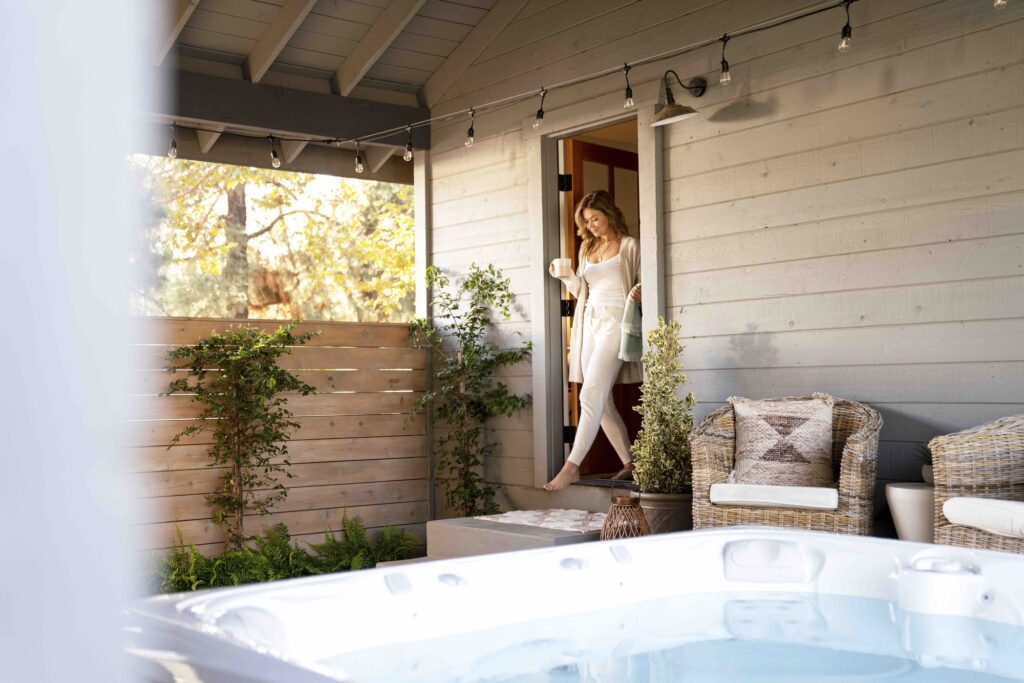 Hot Tub Buying Tips To Make Finding Your Spa Effortless
Spas come in all shapes, sizes, and styles, and it can quickly become overwhelming once you begin your search.
Finding your dream spa should be a fun, exciting adventure, not one filled with stress.
Luckily, with just four simple steps, you can make it much easier to narrow down your options and begin to enjoy the process every step of the way!
Consider Your Lifestyle
How you plan to use your spa will have a significant influence over which ones would be a good fit.
Everyone has their own way of living, with some requiring plenty of solo time to recharge, while others thrive by hosting lavish parties or spending weekends surrounded by family.
For each of these lifestyles, there's a hot tub that would best complement it, ensuring every time you step into the water, whether it's sharing with others or solo, you'll love the experience.
Before you begin shopping, answer these questions to narrow down how you'd like to enjoy your spa.
Will you be sharing your spa?
How many people would you like it to fit?
Do you need a lot of open space?
Will kids be in your spa?
Each one of these questions will help you discover how your spa can support your lifestyle.
Set a Budget
There's no ignoring the fact that spas are an investment.
While they are a bigger purchase, they boast an impressive lifespan of 15-20 years for a high-quality model!
Before you begin exploring, it's important to consider what your budget would be.
This can help you filter your search and reduce the work needed to find the ones that are within your range.
Measure Your Backyard
Above all, the size of your backyard will determine how big of a spa you can possibly install.
If you're working within a small space, but you love bringing people together, the size of your yard will quickly trump your lifestyle.
A hot tub should complement your space and not become overbearing, leaving your backyard feeling cluttered and cramped.
Before you choose your model, you should measure your space and consider how much you could use for your spa.
This can help you narrow down your options further, and even provide the opportunity to consider how uniquely shaped hot tubs may better complement your space.
Decide on "Must-Have" Features
Lastly, you'll want to carefully consider the features you can't imagine your spa not having.
Absolutely want to lay back and enjoy a full body massage?
Make sure it has a lounger.
Can't imagine stepping into the water without music drifting through the air?
Find one with built-in speakers!
Some other features to consider include:
Cabinetry
Water systems
LED lighting
Water features
Specialized hydrotherapy systems
Not sure what kinds of features are available? Browse through various models and explore the endless possibilities as you make your list!
The 5 Best Caldera Spas®️ Models
Now that you're ready to begin your search, let's explore some of the best models to complement any lifestyle!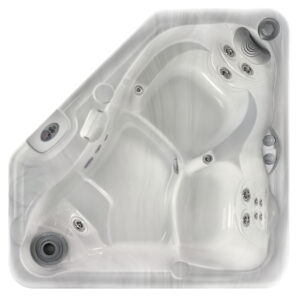 For The Small Backyards
The Aventine®️ is a truly unique spa, boasting an eye-catching triangular design to easily be tucked into the corner of your yard, maximizing your usable space.
This model is perfect for small backyards and creates an intimate atmosphere with its ultra-compact size, seating just two people.
With the integrated MP3 sound system, Aquatic Melodies®️, you can amp up your time in the water with your favorite playlist, bringing your relaxation even further.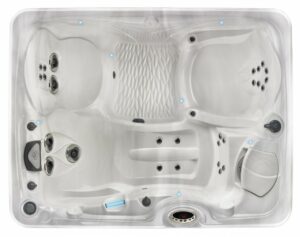 For The Self-Care Enthusiast
Do you crave a moment of quiet relaxation to unwind and recoup after a taxing day at work?
The Kauai®️ is the ultimate self-care tool, boasting a compact design that instantly becomes a safe haven of pure relaxation.
With a lounger to target your shoulders, back, calves, and feet, every ounce of tension will melt off your body to leave you feeling completely rejuvenated!
To bring your moment of peace even further, this model is outfitted with an EcstaSeat®️ to expertly target the large muscles of your back to banish tension, all while two precision jets gently massage your wrists!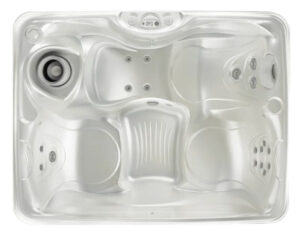 For Couples
If you're looking for a compact spa to create a soothing escape for you to whisk your loved one away, the Celio™ is your perfect match!
This three-person spa has it all, with a lounge seat sprawling across one side and two forward-facing seats.
Whether you're enjoying a side-by-side massage or are catching up after a busy week, you can do it all with this ultimate couples retreat!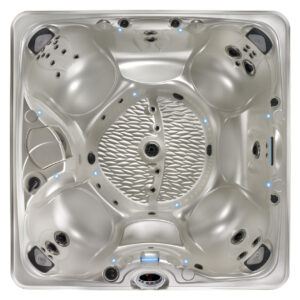 For The Kid-Friendly Home
Keeping your kids entertained and out of the house throughout the year isn't always an easy task!
The spacious Salina®️ is changing that!
With a wide-open seating arrangement, this model provides plenty of space for your kids to splash around all year long.
This seven-person spa isn't only good for keeping the kids active.
With various jet configurations, you can reward yourself after a long week with a top-quality hydromassage that expertly targets each of your aching muscles with ease.
Better yet, with a FreshWater®️ Salt System and EnergyPro®️ circulation, this spa is not only effortless to care for but impressively energy efficient!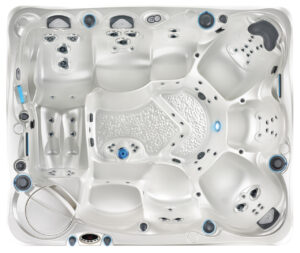 For The Socialite
Having a spa spacious enough to fit all your favorite people is a must if you thrive off hosting lavish parties or simply love being surrounded by your loved ones.
With the Cantabria®️, you'll never be left wanting more!
Boasting enough room for eight and having a full lounger tucked along one side, this model is the ultimate combination between luxury and entertainment.
From the built-in speakers and contoured pillows to the UltraMasseuse®️ System to adjust your massage experience to match your ever-changing needs, this model does it all.
Shop Caldera Spas®️ in San Diego
Are you ready to embrace relaxation with one of the Caldera Spas®️ above?
At The Spa & Patio Store, we stock a range of high-quality hot tubs to effortlessly meet your health and wellness needs.
Whether it's one of the above models or one of the many others lining our showroom floor, we'd love to help you create the backyard oasis of your dreams.
Contact us today, or visit our San Diego or San Marcos showroom today to discover yours!