If you've been looking out at your backyard and contemplating how to make it more enjoyable or entice family members to spend more time outdoors, a backyard hot tub may be just what you need!
With so many on the market, there are plenty to choose from, and they can provide the boost of excitement you're craving with their welcoming, warm depths.
But finding the right one is key, and the process can be overwhelming at first.
Don't let that scare you away!
At The Spa & Patio Store, we carry a wide range of models from some of the leading brands in the industry, ensuring ample options for everyone who walks through our door.
We want to take the stress out of finding your dream hot tub, and you'll find everything you need below!
Not only will you discover how to pick out your best fit, but you'll walk away with nine options to consider, providing the perfect starting point for your new, exciting journey!
How Do You Know Which Hot Tub Is Best?
Before we dive into some of the best backyard hot tubs, you'll want to get a clear picture of the factors that will have the largest influence on your decision when it comes to choosing a model.
Affordability
Let's face it, hot tubs are an investment, and the cost will likely be the one thing that impacts your decision the most.
Hot tubs come with a range of price tags, often rising and falling in price based on size, features, and quality.
Some hot tub brands place a heavy focus on affordability, designing models that expertly combine quality materials with budget-friendly prices, all without sacrificing your experience!
Features
Every hot tub on the market comes with a set of features designed to promote a specific experience.
This can include aspects like customizable jet pressure, LED lighting, or water features.
As you explore your options, think about which features stand out on each one, and create a list of those you'd love to see in the model you settle on.
Size
Size is another significant aspect to consider when selecting your hot tub.
Not only does it need to boast the right amount of seating for you and your loved ones, but it also needs to fit into your backyard.
Before you begin exploring your options, measure your backyard and determine how much space you have for a hot tub.
Don't worry if you have a smaller backyard. Depending on the brand, you may be able to find uniquely shaped models that make the most of your available space!
Design
Speaking of shapes, you may be surprised at the array of designs on the market!
From triangular models that tuck into corners and circular spas for a whirlpool-type feel, there are plenty of options for those who want to stray from the standard square or rectangular design.
Overall Quality
More important than anything else will be the quality of your hot tub.
While some people may be looking for a shorter-term solution, if you want your spa to provide many years of relaxation, quality is key.
Hot tubs can have a lifespan that ranges anywhere from 5 years, all the way to 20 years with the right combination of quality and care.
Before you settle on any model, you'll want to ensure it's a high-quality spa that is capable of meeting your expectations.
Top Backyard Hot Tubs From Bullfrog Spas®️
Now it's time for the fun part…exploring your options!
To kick things off, we're going to jump into a brand that offers a one-of-a-kind experience that's transforming the way people access hydrotherapy at home: Bullfrog Spas®️.
This revolutionary brand has created a way to truly customize your experience, even after you've selected your model and it's sitting in your backyard.
Many of their hot tub models boast the JetPak Therapy System™️, a set of removable JetPaks that can be swapped out with another with a different jet pattern.
Not only does this ensure you can experience a whole new soak every night of the week, but with a total of 16 different options, your spa can easily transform to meet your needs even as they change!
Check out this quick video to see them in action!
Let's jump into three of their models that we're sure you'll love!
R5L
If you're looking to take advantage of that JetPak system but crave an intimate setting for your backyard, the R5L is the answer to all your needs.
This model includes both upright seating and lounge seating, ensuring you can engage in lively conversation, or take a moment to watch the stars as you lay back for a full-body massage.
Boasting two JetPaks, you'll have complete control of your hydromassage experience, matching the jet pattern to precisely target your pain points.
Best of all, with its compact size of 5'8" x 7', this model is easy to fit into nearly any outdoor space!
A7D
For something slightly larger, the A7D boasts a square design of 7'4" x 7'4", and has a total of five seats outfitted with the JetPak Therapy System™️.
Not only that, but this model has truly maximized the relaxation space, providing two full-length loungers along either end, making it ideal for couples and families alike.
That's not the only way this model saves on usable space. With the Simplicity™️ Filtration System built directly into the wall, the interior of this spa is more spacious than ever!
Your experience doesn't stop at the dual full-body massages. The A7D also includes premium spa lighting to set the water glowing, and integrated waterfalls to boost the ambiance of your sessions.
STIL5
Are you someone who enjoys a more modern design with clean, angular elements?
If so, then the STIL5 is sure to bring your backyard to dreamy new heights! This rectangular hot tub boasts a size of 6'10" x 5'7" and has a unique design consisting of two benches.
Seating four, each person in your spa will have a JetPak system, ensuring everyone can experience a massage that is perfectly tailored to their needs.
This model was designed with efficiency in mind, wrapped in high-density insulation to lock in heat, and paired with a dedicated filtration pump to minimize its energy usage.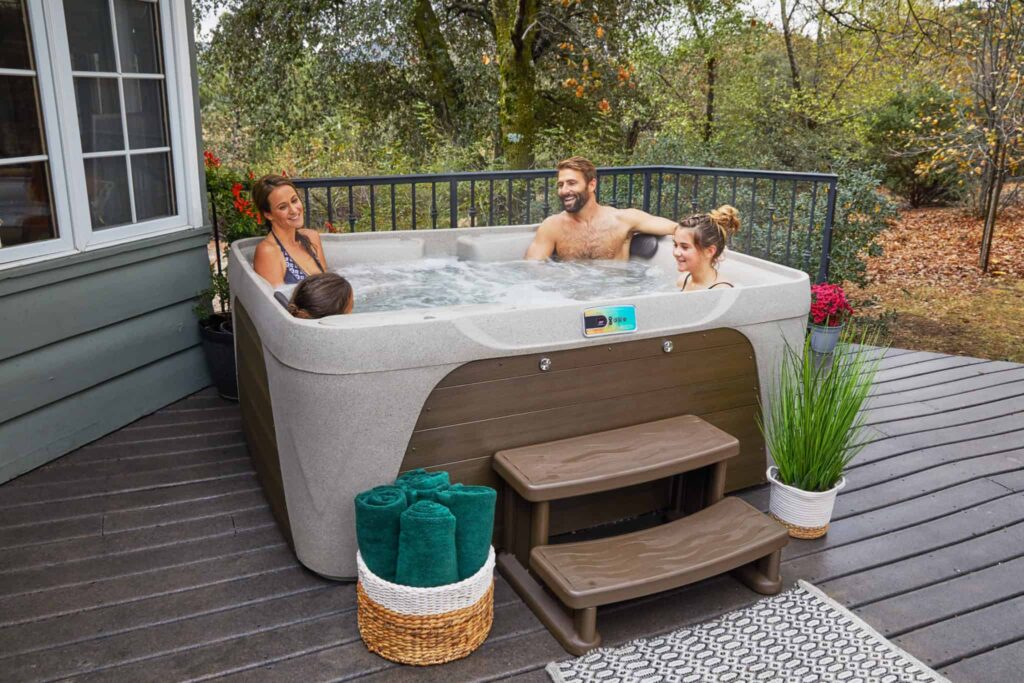 Affordable Backyard Hot Tubs From Fantasy Spas®️
For those looking for a more budget-friendly option but don't want to sacrifice the quality of their spa, hot tubs from Fantasy Spas®️ are worth some serious consideration.
Not only are these models exceptionally affordable, but they're the perfect spas for first-time buyers, providing a premium experience with a user-friendly design.
Additionally, Fantasy Spas®️ has created a line of hot tubs that suit an array of spaces, making hydrotherapy at home easily accessible even for those in condos with more compact outdoor spaces.
From triangular corner units to round models and even diamond-shaped ones, this brand offers the perfect selection to complement any space!
Embrace®️
This triangular hot tub was made with compact spaces in mind.
Whether you have a pie-shaped yard and want to make the most of the back corner or need something with a smaller footprint to maximize the comfort of your backyard, the Embrace®️ spa is the perfect solution.
Offering seating for two, each paired with a jet in the footwell to soothe aching feet, this spa combines intimacy and relaxation flawlessly.
Do you suffer from carpal tunnel and need a way to combat throbbing wrists during a flare-up? Each seat includes targeted wrist jets to expertly ease the pain.
Best of all, with its Plug-N-Play design, this spa can be installed nearly anywhere you have access to an outlet!
Splendor®️
If you love the idea of a traditional whirlpool hot tub, you'll want to add the Splendor®️ model to your list.
With its whirlpool jet to send the water swirling around the spa, and five seats lined with massage jets, this spa provides the ultimate hydrotherapy experience.
Also boasting the Plug-N-Play design, you'll have ample options when it comes to installation, and with its lightweight shell, relocating it can be a breeze!
Entice®️
The last Fantasy Spas®️ model on our list is the Entice®️ model.
Boasting a unique curved corner bench, this spa not only boasts an elegant design but also maximizes its interior space.
With the lounger along one side, this hot tub offers a variety of ways to soak, making it the perfect solution for families, couples, or socialites alike.
To amplify the ultra-affordability offered by this brand, this model and all others boast an energy-efficiency design with their full foam insulation and a locking thermal cover.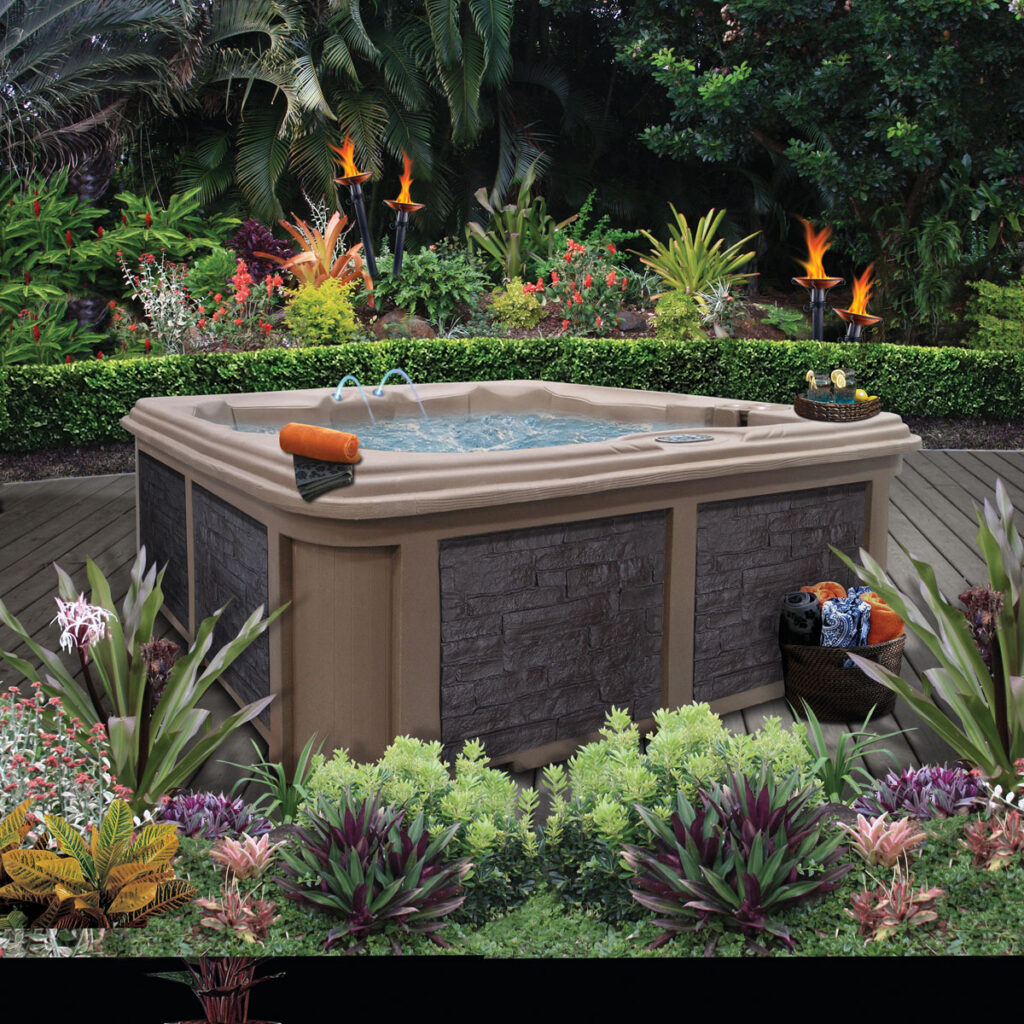 The Best Cal Spas®️ Models for Your Backyard Oasis
Cal Spas®️ has been challenging the industry standard for 45 years, originally starting in the pool business before embracing the world of hot tubs.
These spas boast an array of features that make them stand out from the crowd.
From the captivating Candy Cane™️ jet designs lining the seats to the Adjustable Therapy System™️ (ATS) that allows you to personalize your hydromassage with a push of a button, these hot tubs have left people raving.
Kona Plus PPZ-533L
The Kona Plus PPZ-533L is a stunning three-person hot tub boasting two forward-facing seats to drive conversation, and a lounger for some full-body recovery.
This model has a total of 33 jets scattered throughout its interior, providing a powerful massage to melt tension away from every seat.
With a Whisper Hot™️ Titanium Heater paired with a high-performance pump and Thermo-Shield™️ Side Panel, this hot tub is sure to impress with its efficiency.
Whether you're looking for the perfect way to reimagine your self-care or are dreaming up new ways to reconnect with your loved one, this model is the perfect solution for both!
Pacifica-X EC-739LX
For something a little more spacious but with the same powerful efficiency, the Pacifica-X EC-739LX has it all!
This model boasts a full-size lounger along one side and five other seats surrounding the rest of the interior, each offering its own massage pattern.
With the exclusive Velocity™️ Jets, you'll discover a massage unlike any other, strategically placed to target pressure points to decompress muscles with ease.
Paired with the ATS system, you'll gain complete control over your hydromassage, while saving energy by only running the jets you're using instead of all 39 throughout the spa.
Tropical-X EC-751BX
Finally, the last model on our list is one that offers a true family-friendly design, with an open seating design that's completely unobstructed.
The Tropical-X EC-751BX has ample room for your kids to splash around, with seven seats spread throughout the spa.
In the center of the spa, you'll pleasantly discover a run of jets on the floor, ensuring every seat provides a soothing foot massage.
To bring your experience even further, this model includes the Pure Silk™️ System to combat microorganisms and keep water clean in a more natural way!
How to Amplify Your Outdoor Oasis
No matter the backyard hot tub you choose, you'll want to ensure your space has everything you need to bring your new haven of relaxation together!
Depending on your outdoor space, there are plenty of ways you can truly make it your own, and enhance your comfort each time you step into your new spa.
Add privacy features
Plant aromatic flowers and herbs
Hang lights
Invest in stairs and a cover lifter
How you customize your space is up to you. For inspiration, check out our install gallery!
Shop Backyard Hot Tubs in San Marcos & San Diego
Finding your dream spa doesn't have to be a challenge, and at The Spa & Patio Store, we've cultivated an unmatched shopping experience, working hard to pair you with the perfect spa for your unique needs.
Contact our team of experts at our San Marcos or San Diego showroom, and take the first step in transforming your moments at home.