There's no better way to spend a warm evening than filling the air with the delicious smells of BBQ.
Finding the best BBQ grill for your backyard not only provides you with a gourmet meal anytime you want but also creates the perfect space to bring all your loved ones together for an amazing meal.
If you've been considering upgrading your current grill or are finally ready to step up your BBQ game with a high-end model, this article has everything you need.
From essential things to look for when buying to seven of the best BBQ grills on the market, you'll find everything you need below.
Let's fire it up.
What To Look For When Buying a BBQ in 2023
With so many options on the market, there are a few things to consider that will help make finding your perfect grill easier.
After settling on your budget, consider these six factors to ensure you find the best BBQ grill for you.
Size
BBQs come in various sizes, with models that are perfect for small families to ones that could rival those found in chef kitchens!
Knowing how many people you'll generally be cooking for will help narrow down the size thats best for you.
Additionally, you'll want to consider the space you'll be putting your BBQ in.
If you're working within a smaller yard, you may want to conserve space by buying a smaller BBQ, ensuring you're maximizing the usable space while also enjoying the benefits of a top-tier BBQ.
Style
BBQs come in two distinct styles:
Built-in
Portable
Built-in BBQs are ones that look like you'd set them down on a counter or island.
These BBQs don't have storage space below and don't sit on a cart. They are designed specifically to be added to existing tables or islands in your backyard.
These are great, affordable options that look highly appealing.
Portable BBQs come with a cart, offering additional storage for your propane tank or cookware.
This is a popular choice for many and makes it easy to add to your patio or deck without needing to choose a permanent spot for it.
Furthermore, these models make it easy to keep your cook space tidy and ensure your propane tanks are out of sight and out of reach.
Number of Burners
With such a wide range of sizes, BBQs can come with multiple burners, often providing individualized control over the temperature of each section of your grill.
This makes it easy for you to cook a variety of things on your grill without needing to stop cooking to switch out each one.
Fuel Type
BBQs can be fueled in two different ways, each one providing a different experience than the other.
Charcoal
Propane Gas
Charcoal is a classic fuel source and leaves a distinct smokey flavor on your food as it cooks.
Additionally, charcoal burns hot and provides steady heat once it's warmed up.
Propane grills often include an easy start feature and give you maximum control over the temperature of each burner, making it a highly desirable option for many.
If you enjoy both styles, some BBQs come with dual fuel types, allowing you to switch between the two.
Additional Features
While BBQs are petty standard with their basic features, such as burners and racks, some offer even more customization options to elevate your grilling experience.
Some of these features include:
Rotisserie spits
Glass windowed hoods
Preparation tables
Side table burners
Griddle tops
Infrared burners
Thermometer
Monitoring the temperature of your grill is essential when it comes to getting the perfect sear on your steak or firing up the juiciest chicken.
All BBQs include a thermometer in one of two styles:
Analog
Digital
Analog thermometers are by far the most common and are a classic design, using a moving needle to indicate the internal temperature of your grill.
Alternatively, some BBQs have been outfitted with digital thermometers. This makes monitoring your temperature at a glance simple and gives you precision control as you adjust your burners.
7 Best BBQ Grills for Summer 2023
BBQ grills come in many sizes and styles, giving you maximum flexibility over your grilling style while also making it easy to stay within your budget.
This list of the best BBQ grills will include various models from three of the leading grill brands:
Cal Flame®️ Grills
Fire Magic®️ Grills
Lion Premium Grills
Each grill on this list has been chosen based on its affordability, functionality, size, and style, providing a robust range of options that are sure to complement every lifestyle.
Let's get started.
Best BBQ Grill From Cal Flame®️
Cal Flame®️ Grills is one of the brands leading the industry and is a popular brand among many homeowners across the country.
With their stainless steel design and various styles, they've created long-lasting, durable grills that are perfect for every lifestyle.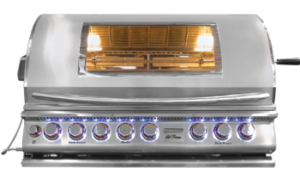 Top Gun™️ Grill With Rotisserie
This grill is a stunning option for any built-in BBQ.
The Top Gun™️ Grill is loaded with premium features that will make it easy to cook a wide range of meals.
With five powerful gas burners and infrared convection, cooking everything to complete perfection will be fast and easy.
Paired with electric ignition, firing up your grill will be as simple as turning a nob. You'll never have to fight with unreliable BBQ lighters again.
Better yet, with its rotisserie capability that holds up to 35 pounds, your grill will be for far more than just burgers.
With its stainless steel design and unique glass window, the Top Gun™️ Grill can be a stunning addition to any backyard.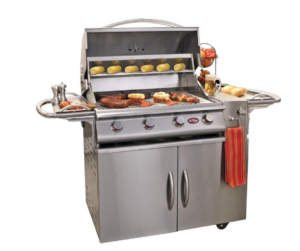 G4 30" Grill and Cart
The G4 Grill and Cart is the perfect portable grill for families.
With an impressive cooking area of 800 sq. inches and Heat-Zone Separators, you'll be able to grill at multiple temperatures all at the same time.
This grill was designed with longevity in mind. With its stunning stainless steel design, analog thermometer, and easy-start ignition, you'll be grilling up your favorite foods for years to come.
Better yet, with its large storage space below the grill, tucking away your unsightly propane tank will keep your space clean and free of clutter!
Best BBQ Grill From Fire Magic®️
Fire Magic®️ Grills are high-end luxury options that boast an impressive design thats both durable and aesthetically pleasing.
With expansive models, these grills are powerful options for those who enjoy hosting lavish backyard BBQs or for large families.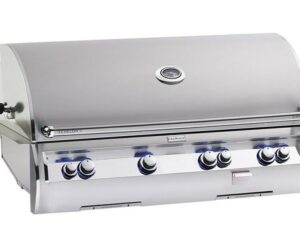 Echelon E1060i Grill
The Echelon E1060i Grill is the perfect model to add to your outdoor island or design your built-in BBQ around.
Its wide 48" design provides ample room for all your favorite summer foods and makes cooking for a crowd easy.
Furthermore, with its optional built-in spit rod, you'll be able to roast a whole chicken, bringing your BBQ game to a whole new level.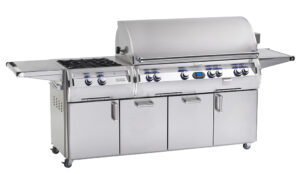 Echelon E1060s Grill
The Echelon E1060s Grill is the ultimate portable BBQ.
This massive unit won't leave you wanting (or needing) more. With its 48" grill, power burner, and expanded shelf, cooking for large parties will be a breeze.
This model also includes a digital thermometer, making it easy to monitor the temperature of your grill at a glance.
With four storage compartments, you can keep your propane tank out of sight while also storing any of your BBQ essentials between cookouts.
All in all, this grill will enhance your backyard experience and make summer parties more enjoyable than ever.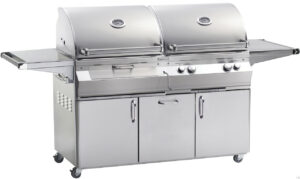 Aurora A830s Grill
This grill offers the best of both worlds with dual fuel options.
The Aurora A830s provides maximum flexibility, with two side-by-side grills, each with its own fuel type.
One uses propane for a fast grill that provides maximum temperature control, while the other uses charcoal, giving you a classic taste and steady heat.
Not only does this dual grill give you complete control over how your meals taste but makes it easy to feed all your guests without needing multiple rounds of cooking!
Best BBQ Grill From Lion Premium Grills
Lion Premium Grills are both powerful and affordable, providing a classic grilling experience.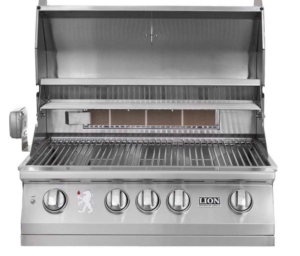 L-75000 30" Grill
For an affordable, built-in propane BBQ, look no further than the L-75000 30" grill.
With its durable stainless steel design, this BBQ will last for years to come.
Outfitted with four cast stainless steel burners, and an infrared rotisserie back burner, the L-75000 is sure to meet all your grilling needs.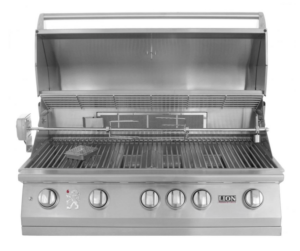 L-90000 39" Grill
The L-90000 39" grill is another built-in BBQ option and maintains its affordability even with its larger size.
This model boasts 5 stainless steel burners, and a rotisserie spit, giving you ample options when it comes time to start cooking.
Easily fire this grill up using the push-to-turn knobs, and adjust the temperature as you go by watching the XL temperature gauge on the hood.
This model is the perfect addition to any backyard and can easily meet the needs of large families.
Get The Best BBQ Grill at The Spa and Patio Store in San Diego
Adding one of the best BBQ grills to your backyard is a powerful way to elevate your space.
Not only does a BBQ bring people together, but it makes cooking easy, especially on those hot summer days when BBQing only seems natural!
At The Spa & Patio Store, our team of experts can make finding your new backyard grill simple.
With two convenient showrooms, one in San Diego and another in San Marcos, we're making it easy to find all your backyard essentials in one place, from patio furniture and grills to swim spas and hot tubs.
If you're ready to upgrade your backyard, visit your local showroom, or contact us to get started.