Thanks to our friends at Caldera Spas, here is an extensive look at why hot water therapy, also known as hydrotherapy, is a vital ingredient in living a life free of tension and stress. Hot water immersion has been used for therapeutic relief for centuries.
Today, doctors,  physical therapists, and those suffering from hypertension and arthritis continue to treat ailments with the healing power of hot water.
The Benefits of Hydrotherapy
A Deeper, More Relaxed Sleep is Just a Hot Soak Away!
During a long hot soak, your body releases built-up tension allowing you to feel a deeply relaxed sensation. This promotes a restful night of sleep and allows you to fall asleep faster and stay asleep longer. The hot water raises your body temperature which increases blood circulation.
Once you leave the water, your core body temperature slowly drops which lets your body know that it's time for bed.
Happy Soaking – Happy Sleeping.
Natural Pain Relief From Arthritis
According to the Arthritis Foundation, hot tub hydrotherapy creates a helpful environment for providing relief from arthritis pain and stiffness. When the body temperature is raised,  blood circulation is increased.
The water's buoyancy relieves stress on stiff joints and aching muscles to promote easier movement.
Massage jets play a major role in relaxing muscles, ligaments, and tendons. The pressure stimulates the release of endorphins, naturally relieving pain.
An Arthritis Foundation publication related to spas, pools, and arthritis states "Regular sessions in your hot tub keep joints moving. It restores and preserves strength and flexibility, and also protects your joints from further damage."
Muscle Recovery and Faster Healing
As mentioned above, heat stimulates blood flow to assist in healing. Massage jets also aid in the increase of blood circulation. This allows the blood to supply nutrients to help cells and tissues regenerate.
According to the textbook, Comprehensive Aquatic Therapy by Dr. Bruce Becker and Dr. Andrew Cole:
"Immersion in warm water can lead to a faster and longer-lasting recovery. An environment which is less prone to cause pain, and is even pleasurable, makes immersion in warm water a unique healing environment."
Overall Stress Relief
Soaking in warm water is obviously relaxing and enjoyable. But have you ever wondered why? Believe it or not, there is scientific evidence to support why hot tub hydrotherapy is beneficial to our health and wellness.
Studies have shown the soothing and regenerative effects. Just one example is that our blood pressure drops after a hot soak. It makes logical sense why hot water would be soothing. However, until you have tried it for yourself you'll never fully understand just how much of a positive impact it has on your overall health and wellness.
There is an overwhelming sense of tranquillity and detoxification that comes from even just a single spa soak and massage.
Instead of a fifty-page scholarly article on how important hot water immersion therapy is for your health and wellness, Caldera Spas and The San Diego Spa & Patio Store invite you to experience the magic of hot water therapy for yourself.
Experience Hydrotherapy Today
Call our San Marcos or San Diego showrooms to arrange a time to test soak in one of our spas. Try out the powerful massage jets and comfortable seats for yourself.
That's right…call us TODAY!  WE'RE OPEN 7 DAYS A WEEK!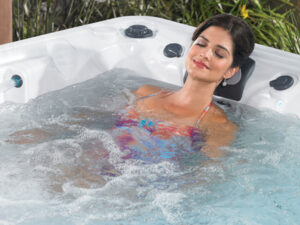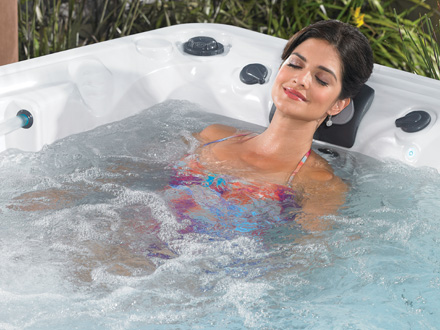 We'll provide the towels, the ambiance and the hot tub. You just come ready to melt your tensions away. Set up a time, and let us show you the meaning of relaxation and rejuvenation.
San Marcos Showroom:                                        San Diego Showroom:              
 (760) 591-7665                                                            (858) 761-8665
1122 Los Vallecitos Blvd.                                            5630 Kearny Mesa Rd.
San Marcos, CA 92069                                               San Diego, CA 92111